" New figures published show a growth of 2.1% for August. Whilst any growth is welcome at this stage, these figures are not fantastic. The recession will come to an end shortly. A recession is when the GDP is negative for 2 quarters.

There has been positive growth for the last 3 months now although we still have a long way to go to get back to pre covid levels.

Also there is further speculation of new lockdowns which will have an impact on the economy.

The Bank of England will scrutinize these figures at their policy meeting next month.

The Chancellor will probably announce new measures today."

Nigel Holland
UK economic growth slows despite restaurant boost
The UK economy continued its recovery in August, growing by 2.1%, as the Eat Out to Help Out scheme boosted restaurants.
But the figure was below expectations and the economy is still 9.2% smaller than before the pandemic struck.
It marked the fourth consecutive month of expansion following the slump induced by the coronavirus lockdown.
However, growth in August was slower than the expansion seen in both June and July.
In June, the economy grew by 8.7% and in July, by 6.6%.
Eat Out to Help Out, which ran from Monday to Wednesday during August, offered 50% off food up to the value of £10.
Discounts for more than 100 million meals were claimed through the scheme.
What is likely to happen next?
Analysts said the coming months were likely to see growth slackening further because of new Covid restrictions, the end of the furlough scheme in October and concern over a no-deal Brexit.
"We have been clear that we stand ready to do more as necessary," a Treasury spokesperson said. "Some firms will be affected by coronavirus for longer than others, and we will continue to seek to support these firms appropriately."
Chancellor Rishi Sunak is expected to announce further coronavirus support measures later on Friday, including an extension to the Job Support Scheme for business affected by local lockdowns.

Should we be worried?

The economy's bounce back from the pandemic shutdowns slowed in August, despite the boost from Eat Out to Help Out at a time when there were few social restrictions.
The official technical recession – two consecutive quarters of shrinking GDP – has certainly ended and that will be confirmed next month. But a lower than expected figure for growth in the economy in August raises fears about the recovery petering out and even going into reverse in the current final quarter of the year.
The figures bolster the argument of those business groups campaigning for further support, particularly as social restrictions are strengthening rather than weakening. The first stage of that could come from Chancellor Rishi Sunak later on Friday.
The Bank of England will also react at its policy-setting meeting next month. But the latest figures show that while the first bounce in the economy occurred relatively rapidly, a full recovery is going to take much longer and not yet assured. It's going to be a tough winter.

What does the bigger picture look like?
The Office for National Statistics (ONS) said important sectors of the economy, such as services and construction, were still considerably smaller than in February.
The ONS also issued figures for the three months to August, showing growth of 8% over the period as lockdown measures eased further.
"The economy continued to recover in August but by less than in recent months," said Jonathan Athow, the ONS deputy national statistician for economic statistics.
"There was strong growth in restaurants and accommodation due to the easing of lockdown rules, the Eat Out to Help Out scheme and people choosing summer 'staycations'. However, many other parts of the service sector recorded muted growth.
"Construction also continued its recovery, with a significant boost from housebuilding."
He added that there was "limited growth" in manufacturing, with car and aircraft production still much lower than the start of the year.
What are the experts saying?
No V-shaped recovery here," was the verdict of Samuel Tombs, chief UK economist at Pantheon Macroeconomics, referring to optimistic forecasts of a swift rebound in growth.
"GDP was still a hefty 9.2% below its pre-Covid February level in August – when no meaningful restrictions on economic activity were imposed."
Looking ahead, he predicted growth of only about 2% in September.
He added: "GDP also likely will struggle to improve on September's level over the next three months, as the second wave of Covid-19 instils more consumer caution and compels the government to shut hospitality businesses in Covid-19 hotspots once again."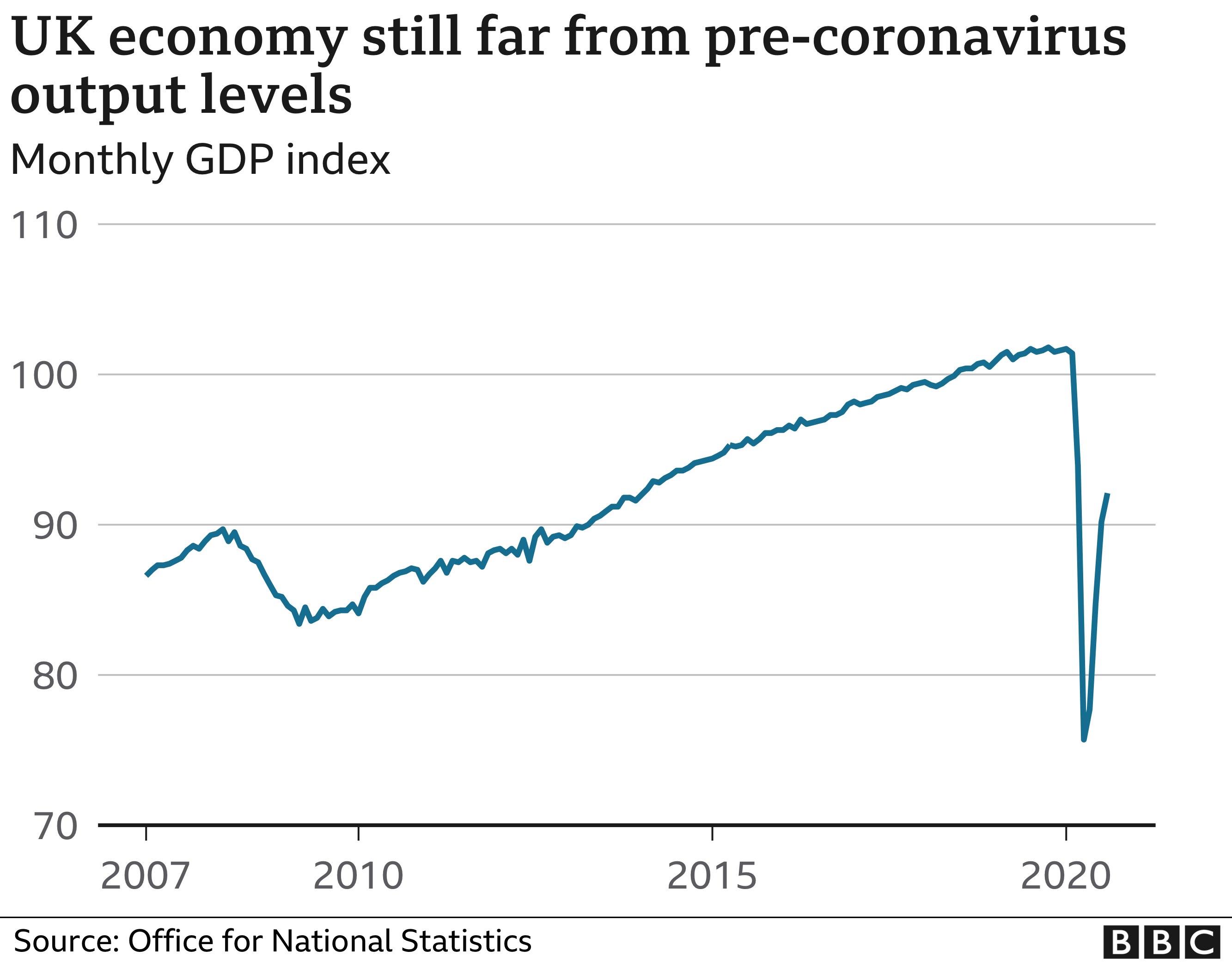 Sarah Hewin, economist and head of research at Standard Chartered Bank, echoed that view.
"Despite the support from Eat Out to Help Out and staycations, there was virtually no growth in manufacturing," she told the BBC.
"And although we continue to see new housing being built, that also was a little bit weaker than expected, so the pace of recovery does seem to be slowing.
"To a certain extent, that's not surprising. We had very strong growth in June and July as lockdown restrictions eased, so August data continued to show the economy growing, but not at such a fast pace.
"The slowdown in that momentum, though, does give us some concern for what might be happening over the next few months."
What has the political reaction been?
Chancellor Rishi Sunak said: "Today's figures show our economy has grown for four consecutive months, but I know that many people are worried about the coming winter months.
"Throughout this crisis, my single focus has been jobs – protecting as many jobs as possible and providing support for people to find other opportunities where this isn't possible. This goal remains unchanged."
Shadow chancellor Anneliese Dodds said: "It is deeply worrying that growth was weak in August despite the easing of restrictions, especially as we now face Covid-19 cases rising and more areas coming under local restrictions.
"The government must get a grip on test, trace and isolate, reform the sink-or-swim Job Support Scheme and urgently put in place consistent economic support for areas of localised restrictions."