Businesses in retail, hospitality and leisure will receive new grants to help them keep afloat until spring, Chancellor Rishi Sunak has said.
The grants will be worth up to £9,000 per property, the Treasury says.
Mr Sunak told the BBC he was "committed to protecting jobs and supporting businesses".
Business groups welcomed the new help as a good start but warned the money still wouldn't be enough to stop many firms from collapse.
The help is in addition to business rates relief and the furlough scheme which has been extended until the end of April.
Mr Sunak said he would consider whether or how to extend support packages in its Budget on 3 March.
"The Budget early in March is an excellent opportunity to take stock of the range of support we have put in place and set out the next stage of our economic response," he said.
The director general of the CBI business group, Tony Danker, earlier warned leaving additional support until the Budget could be too late for many firms, saying. "the comprehensive restrictions required a new comprehensive response".
It was a fear echoed by other business groups, the BCC and the Federation of Small Businesses (FSB).
BCC director general, Adam Marshall, warned many smaller firms would not qualify for help and "will be left struggling to see how this new top-up grant will help them out of their cashflow problems."
He also called for the support to be extended to firms in other sectors "who are also feeling the devastating impacts of these restrictions."
FSB chair Mike Cherry also said the funds would be a lifeline to many, but "do not go far enough to match the scale of the crisis that small firms are facing."
The British Beer & Pub Association described the grants as a "lifeline", but added that companies on which pubs rely, such as breweries, would also need help.
'Remain wary'
Mr Sunak said the new support would "help businesses to get through the months ahead – and crucially it will help sustain jobs, so workers can be ready to return when they are able to reopen".
Businesses such as cafes, restaurants, leisure centres and shops that do not sell essentials have been particularly hard hit by coronavirus lockdown measures as people are told to stay at home.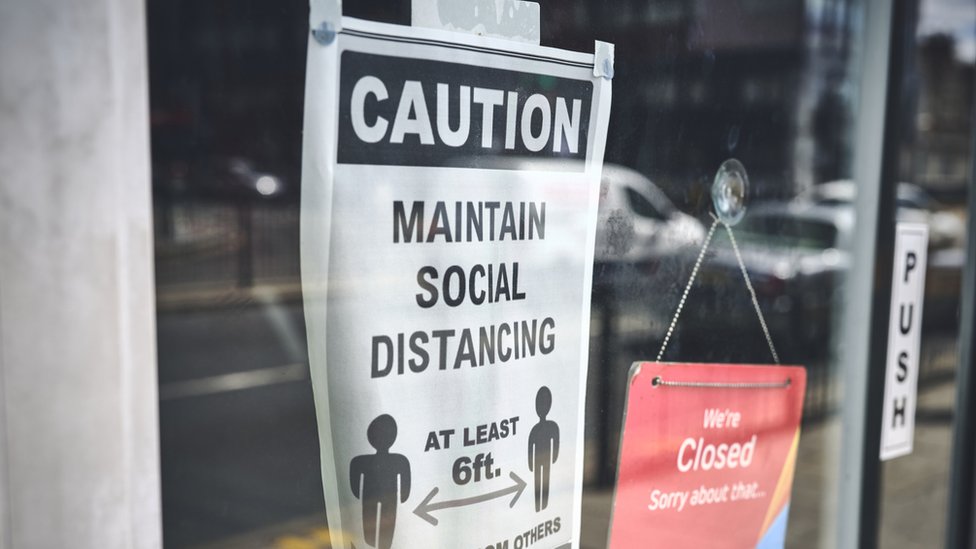 All non-essential shops, leisure and entertainment venues are now closed, with pubs and restaurants allowed to offer takeaway food only.
The new measures contained no additional support for self-employed people.
Mel Stride, chair of parliament's Treasury Committee, which scrutinises the finance department's work, warned the chancellor "must not forget those who have fallen through the gaps around previous support packages."


While this is welcome and essential support, it is now clear that the most optimistic timetable for economic lift-off from the pandemic is going to be put back.
This raises questions about the length of the furlough scheme, and government-guaranteed loans.
Before this, the best-case scenario was that mass vaccination, enabling a confident reopening of the economy, would enable furloughed workers to go straight back to their jobs in late spring.
This was never the government's central forecast, but looked possible amid optimism about the vaccine last month.
Even if all vulnerable people can be vaccinated by March, the first three months of the year will see school lockdowns which will harm growth, and therefore a possible double dip recession.
Business groups which welcomed this support say they now need a clear long-term plan. They want to know that current levels of support will stay in place until most of the population is vaccinated.
Hundreds of thousands of self-employed workers who fell through the gaps of support remain under huge pressure, particularly ahead of the self assessment tax deadline.
A decision on extending the £20 a week increase to universal credit will also be required.

'Welcome' plan
England's lockdown rules are due to be reviewed on 15 February while Scotland's will be reviewed at the end of January.
In the UK, the unemployment rate rose to 4.9% in the three months to October, with the jobless total up to 1.7 million people.
Redundancies hit a record high over the period.
The Office for Budgetary Responsibility, the government's independent forecaster, predicts the UK economy will have shrunk by 11.3% in 2020 – the biggest decline in 300 years. It expects unemployment to peak at 9.7%.